LOVIATHAN -- The penultimate episode!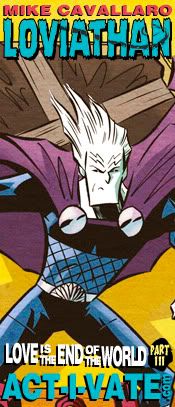 The NEW installment of
LOVIATHAN: Love Is The End Of The World Part Three
is now online at ACT-I-VATE!
ONE WORLD ENDS. ANOTHER IS BORN. BUT LOVE AND BETRAYAL ENDURE. A TALE OF HIGH ADVENTURE SET AGAINST THE BRIGHT ABYSS OF ETERNITY!
THIS WEEK:
The penultimate chapter in our story unfolds! NEXT WEEK -- DON'T MISS THE GIANT-SIZE CONCLUSION!
To read
this week's new episode:
CLICK HERE
To catch up on the
previous episode:
CLICK HERE
To read
from the beginning:
CLICK HERE