Today@ACT-I-VATE.com: LOVIATHAN continues!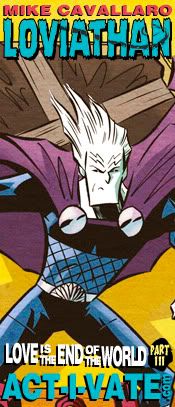 The NEW installment of
LOVIATHAN: Love Is The End Of The World Part Three
is now online at ACT-I-VATE!
ONE WORLD ENDS. ANOTHER IS BORN. BUT LOVE AND BETRAYAL ENDURE. A TALE OF HIGH ADVENTURE SET AGAINST THE BRIGHT ABYSS OF ETERNITY!
THIS WEEK:
Llyr's encounter on the East River comes to a swift conclusion!
Read
this week's new episode
here:
http://www.activatecomix.com/20-3-12.comic
Catch up on the
previous episode
here:
http://www.activatecomix.com/20-3-10.comic
Click here to read
from the beginning:
http://www.activatecomix.com/20.comic