Today@ACT-I-VATE: "Loviathan" and other news!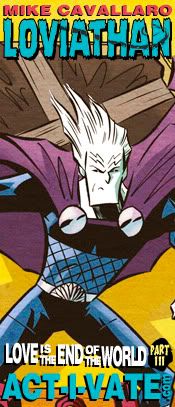 The NEW installment of
LOVIATHAN: Love Is The End Of The World Part Three
is now online at ACT-I-VATE!
ONE WORLD ENDS. ANOTHER IS BORN. BUT LOVE AND BETRAYAL ENDURE. A TALE OF HIGH ADVENTURE SET AGAINST THE BRIGHT ABYSS OF ETERNITY!
THIS WEEK:
You never know who you'll meet in a bar in New York.
To read
this week's new episode:
CLICK HERE
To catch up on the
previous episode:
CLICK HERE
To read
from the beginning:
CLICK HERE
Also, I'll be reading a selection from "Parade (with fireworks)" in Manhattan next Thursday, March 18th. Details as follows: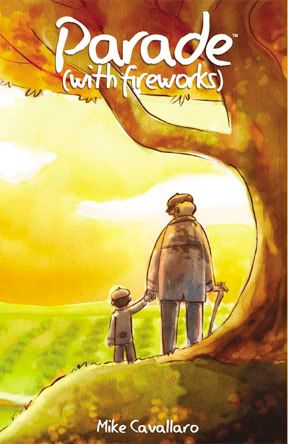 John D. Calandra Italian American Institute
Queens College, CUNY

Writers Read Series

Reading and wine reception with Mike Cavallaro
Thursday, March 18, 2010, 6 p.m.
Mike Cavallaro reads from Parade (with Fireworks) (Image Comics, 2008)
Mike Cavallaro's comic is based on a family story that takes place during the Feast of the Epiphany in 1923 Calabria. Tensions are high between fascist party members and socialist organizers. An argument escalates into a gunfight, and a fascist shoots Vincenzo, who supports the socialist cause. When his brother Paolo retaliates and goes into hiding, the family faces unforeseen hardship. Parade (With Fireworks) takes place during a critical period in Italy's history, but its emphasis is the human element of the story— questions of family, country, loyalty, and betrayal set against a volatile political climate. The book was nominated for a 2008 Will Eisner Comic Industry Award for Best Limited Series and for the Young Adult Library Services Association 2010 "Great Graphic Novels for Teens" list.
"Whether he's portraying sunlit festivals and bloody gunfights or dank prison cells and tense courtrooms, Cavallaro's mastery of light and shadow is as impressive as his versatility as a visual storyteller."
— Ian Chant, PopMatters.com
John D. Calandra Italian American Institute
25 West 43rd Street, 17th floor
New York, New York 10036
(Between 5th and 6th Avenues)
Free and open to the public. Seating is limited. Please call (212) 642-2094 to pre-register with the Calandra Institute. Be prepared to show a photo ID to the building's concierge.
Click
HERE
To see
Parade (with fireworks).For further information and to visit the Calandra Institute Web site:
CLICK HERE