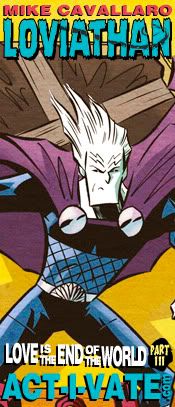 The NEW installment of
LOVIATHAN: Love Is The End Of The World Part Three
is now online at ACT-I-VATE!
ONE WORLD ENDS. ANOTHER IS BORN. BUT LOVE AND BETRAYAL ENDURE. A TALE OF HIGH ADVENTURE SET AGAINST THE BRIGHT ABYSS OF ETERNITY!
THIS WEEK:
Is there more to Ann Barnett than we know? She seems to think so!
Read
this week's new episode
here:
http://www.activatecomix.com/20-3-10.comic
Catch up on the
previous episode
here:
http://www.activatecomix.com/20-3-8.comic
Click here to
read from the beginning:
http://www.activatecomix.com/20-1.comic
ALSO:
There's been quite a bit of coverage online regarding the HEROES 4 HAITI initiative. In short, this is a grassroots movement of mostly people in the comics and animation community in response to the horrible news that continues to come out of earthquake-stricken Haiti. There are a number of art and comics auctions underway, with more each day, from people like Dean Haspiel, Dave McKean, Greg Pak, Bentemplesmith, and others. All proceeds are going to a variety of charities at work in Haiti now. Check out the websites and please pitch-in to help somehow:
http://www.heroes4haiti.com
and
http://www.heroes4haiti-fb.com
Lastly:
I just received news that my graphic novel, "Parade (with fireworks)", has made the American Library Association's "Great Graphic Novels for Teens" List. This puts the book on a relatively short list that goes out to libraries across the country with a recommendation that they acquire the book for their regular collection.
Studiomate and fellow AIV'er Tim Hamilton is also on this year's list for his stellar adaptation of Ray Bradbury's "Fahrenheit 451".
Full list here:
http://www.ala.org/ala/mgrps/divs/yalsa/booklistsawards/greatgraphicnovelsforteens/ggnt10.cfm